Irresitible Influence Cards Unpacked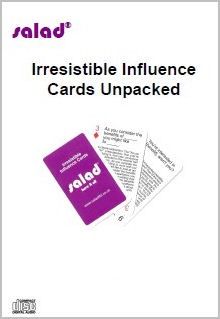 The perfect complement to the Salad Irresistible Influence Cards : Irresistible Influence Cards Unpacked !
Reading the cards and practising the powerful language patterns through card games is a great way to wire in the language in to your unconscious software. However, experience shows that you can dramatically increase your learning through listening to the language patterns.
Imagine yourself sitting on the bus, in your car or on the underground absorbing all these powerful and practical language patterns. Simply put, Irresistible Influence Cards Unpacked makes learning to influence your prospects, colleagues and friends easier than ever before.
We are always influencing people one way or another. Only when you take full control of this process can you become a truly effective and powerful influencer.
Just How Powerful is Irresistibly Influential Language?
For several years, we have used the Irresistible Influence Cards in SALAD's NLP trainings to help people develop great communication skills. Here are just some of the great benefits you can get when you practice these patterns of influence:
Learn the patterns of persuasion quickly and at an unconscious level. Become a far more influential communicator.
Close more deals, make more sales and persuade more people.
Get people to want what you want them to.
Gain an edge over your competition.
Have fun while you learn to be influence your friends and family in positive ways.
One of the most exciting aspects of NLP is the idea that you can use everyday language in ways that influences people at an unconscious level. Talking isn't the answer to getting what you want from interactions with others. It doesn't matter if your desired outcome is getting someone to buy you a coffee or whether it is to get a customer to put a deposit down on a Ferrari – the principles are the same.
Extraordinarily brilliant communicators use these patterns and approaches.
💡
Why Hearing Language Patterns is Important :
The difference between everyday language and irresistibly influential language is not just the words themselves – it's also in how you say the words. Hearing the patterns not only demonstrates to you how to use language in artful ways, it also adds the auditory channel to the learning experience. As a speaker of language already, your brain is already tuned into learning language via your ears. And of course, learning language through listening is how human beings have been learning to speak since time immemorial.
Irresistible Influence Cards Unpacked is one of the foundation bricks in the building that is your proficiency with truly influential language.
By listening to the Irresistible Influence Cards Unpacked Audio programme you can not only listen to us outline 52 powerful language patterns used by great communicators, we also demonstrate how to say them for maximum effect.
Hearing is believing! Repetition is a key to mastery so the cycle of listening and practising is essential to learning how to use irresistible influence patterns for fun and profit.
Here are just a few of the great things you're going to learn after you've listened to the programme just a few times:
Ways of linking ideas that sounds so logical that it is hard to resist. The unconscious mind responds to a logic of its own, learn how to use that to your advantage.
A way to build consensus and credibility – one of the core principles of influence.
The phrase that gets a customer to make the decision to buy now. A deceptively simple yet effective and quirky use of language.
The best ways I have found to get a customer imagining already using your product or service, thereby increasing the chances they will buy it.
A way to get someone to take action now. If you need a subtle way to get people to make a decision then this simple phrase will increase the likelihood of them acting immediately.
A simple yet elegant way to overturn objections.
Ways to build agreement and trust so that people naturally move in the direction you want them to go.
How to get someone else to say what you want to. Use this technique and you will also sound credible in the process.
A simple way to end a sentence that makes it difficult to disagree with.
How to find people's "hot buttons" so that you can package your presentation in a way that has maximum impact on the person you're influencing.
Methods to get clients focusing on what you want them to do.
A cunning and simple way to phrase a request so that the person is more likely to do it.
Quite possibly the funniest way to pre-empt a client's objection and thereby overturn it before it comes up. How to say something to a person without really saying it.
Who is This For?
In short – everyone. These patterns aren't easy to come by. Many people would rather you didn't know influential language patterns and approaches because, well, they would lose their advantage if everyone could speak with such authority and persuasiveness.
If you interact with people and you need to win them over to your way of thinking; or, if you need people to take action in a certain direction - these patterns are the depth charges and foot soldiers in your army of influence!
Here is a small list of the people who use Irresistible Influence patterns to achieve the success they want:
Salespeople
Managers
Executives
Customer Service Representatives
NLP trainers
Teachers
Great negotiators
If influential language is the treasure in the chest then hearing these patterns is the key to opening it and revealing the gold and jewels within.