NLP Coaching Card Deck
Cards to to help you learn, develop and integrate NLP techniques to coach yourself, colleagues and clients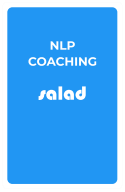 A set of 52 cards in playing card style to help you learn, develop and integrate NLP techniques to coach yourself, colleagues and clients.
Coaching can be overt or covert.  We all coach, explicitly or implicity.
These cards contain powerful techniques to improve your coaching skills.
💡
why not save £20 by buying the Salad Card Deck Bundle ...